Tehachapi has been something of a recurring place for me since about the time I was 16. I remember my friend Jeff talking about Tehachapi, A LOT! He wanted to visit Tehachapi for one reason, the train. You can look up lots of news related articles regarding the
Tehachapi Loop
. He was a train buff and envied that I lived so close to the train tracks and could stand so close to them as they whizzed by. I still haven't had the chance to see a train descend or ascend the Tehachapi Loop. I wonder if Jeff ever got to see a train on the loop.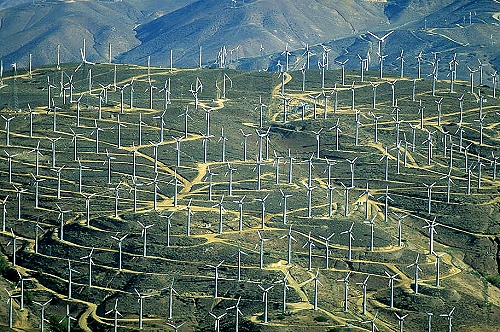 Later in life, on my first road trip to Las Vegas, we passed Tehachapi. I had never witnessed windmills like the ones in Tehachapi or so many! I think in retrospect I would have preferred a nature walk in the area surrounding Tehachapi than having gone to Vegas.
A few years after that I met a gal online through a message board, we exchanged addresses and she lived in Tehachapi! I sent her a few of my t-shirts for her to tye-dye and I knitted her light green toque. I wish I had gone to visit her while she still lived in Tehachapi. I still intend on stopping there one day to see the loop and spend some time there outdoors.